My BX14E S6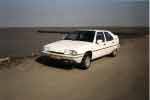 My first car wasn't a GS or GSA. The reasons for this are that when i bought my first car i was still a student and could hardly afford any car.
Unfortunately a GS or GSA isnt an affordable daily driver anymore. Parts are more difficult to get and since I am not really technically skilled I would have to go to a garage to do reparations and maintance. And the thing with GSs and GSAs is, that they're not very simple to maintain, so often this leads to high garage bills. Although I am still improving on the technical area, i still cannot maintain the car fully myself. A GS or a GSA is a great car, but no need to argue, they are expensive to run nowadays.
So, what car did I bought? Of course it is the car that comes as close to a GSA as it can get. A Citroën BX, the successor of the GSA. My BX is an 1988 built white BX14E S6. Te 'E' in the type indication means "economique" cause it is the BX with the lowest fuel use. The 'S6' parts indicates the engine is a clean engine, without catalysator. The colour of the car is as said white (code EWTcS). My BX has driven 224.000km, at purchase the speedometer stood at 191.131km. The car has the well known 1360cc engine and a 5-speed gearbox.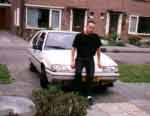 I have fitted a couple of things to this BX myself; I have build in a BX Chic interiour. The old seats, manufactured from cheap material where kind of worn out. The Chic interiour is in my opinion one of the nicest available for the bx. The seats and material are GTI interiour like, except for that they are all black, the doorpanels have a red stripe through them. The rearseat can be pulled down in two parts, which is of course very conveniant.
I have also fitted electric windows up front to the car and added rearview mirrors painted in the same colour as the body of the car. Further the car is equiped with a black roofspoiler, type 1 bx foglights, RPM - meter, 16v front spoiler, headrests in the back and a few other extras. Underneath you can see a list of adjustments i made to the car and also which adjustments i still plan to do.
Things that I am working on right now are a Central locking, 16v spoiler kit and windscreen whiper at the rear. A few things that are going to be added in the near future are a sport exhaust, K&N airfilter and a double carburator from a Visa GT.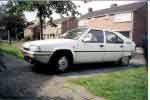 All in all the BX is a great car to drive, it has a very good preformance and reliability. The roadholding is, like with all hydropneumatic Citroéns great. I like my BX very much, it not only gives a great pleasure driving it, but I also enjoy just looking at it when it is parked in street in front of our house, or being busy looking for new parts or working on it. Besides that it is an inexpensive car, it can easily carry five people and has a lot of loggage space, for not much money.
I have owned this BX untill May 2001, then I bought a Diesel due to the increase of kilometers I drove. I have dismanteld this my first BX myself, for two reasons, I could use the spare parts for my new BX and the value of the car was so low that I would have never gotten a price worthy of all the extra things I fitted to the car. So I had scrapped it myself, trust me this wasn't easy, after all it still is you're first car. But anyhow I had enough cars at the time already, and mine was not good enough to keep.
Adjustments I made to my first BX

BX type 3 rearlights and rear reflector panel.

Fitted black dashboard instead of grey one.

RPM - meter and digital clock.

Electric Windows.

Short enginehood + grille.

Rear roof spoiler.

Front spoiler.

BX type 1 foglights.

BX Chic interiour with headrests on the rearseat.

White painted rearview mirrors.

Pioneer 200w speakers.

BX Chic type badge.

Light alloy wheels BXGTI16v.

BXGTI Rearspoiler.
| | | | |
| --- | --- | --- | --- |
| | | | |
| My BX as i bought it | A more recent picture of my BX | My BX as i bought it | A more recent picture of my BX |
The 1360cc engine, type 150J of my BX

The 1360cc engine,
type 150J of my BX

Some nice shots of my BX on a sunny day
| | | | |
| --- | --- | --- | --- |
| | | | |
| | My BX at exactly 200.000 km | My BX and dad's Xantia | |
My BX as I bought it.

After fitting all extra's

Fitted new rearlights
and reflection panel
| | | | |
| --- | --- | --- | --- |
| | | | |
| | Me and my BX | | |
Those foglights sure look good!

I fitted a chic interiour
looks like this
| | | | |
| --- | --- | --- | --- |
| | | | |
| | The end is near | Dismanteld all useable parts | My old and new BX united |